- ESCAPE ROOM EVENTS – BIRTHDAY PARTY, HEN PARTY, STAG PARTY AT THE LOCK ACADEMY -
14 June 2018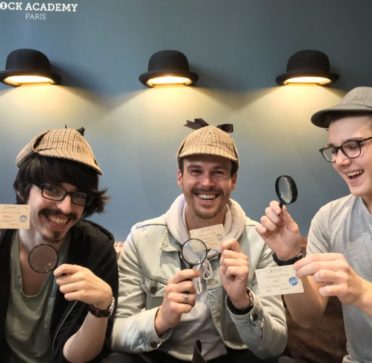 ESCAPE ROOM EVENTS – BIRTHDAY PARTY, HEN PARTY, STAG PARTY AT THE LOCK ACADEMY
Are you celebrating a birthday? A hen party, a stag party or a happy event?! Head to the Lock Academy – Escape Room Paris!
For any occasion, an Escape Room is always the perfect activity to celebrate an event like a birthday in a unique and entertaining way and will surely make your day an unforgivable experience!
On top of your investigation with a team of 2 to 6 people, our Escape Room provide the kit of the perfect detective which will delight your friends, colleagues or family of detectives!
You are kind of greedy and you want to leave the Lock Academy with a souvenir? No need for a special celebration to enjoy the detective VIP formula, especially as a light version is available, without magnifying glass, "Certified Detective" badge and Gamebook Escape Game.
THE DETECTIVE VIP FORMULA
A customised welcome (give us the first name of the person celebrating it's birthday, hen party or stag party, or whoever you wish to celebrate with!)
A welcoming drink for every player (coffee, tea, soda, orange juice // Not for the outside investigation Operation Mindfall)
Unlimited sweets for the foodies!
At least one cookie for every player (from La Fabrique – Cookies)
A diploma of certified detective from the Lock Academy for every player
A kit of the perfect detective for the hero of the day (which is composed of a detective's hat, a magnifier and a pipe) !
Funny stickers from the Lock Academy
WHY CHOOSING THIS PACK ESCAPE ROOM SPECIAL BIRTHDAY ?
This pack allows your group to live a unique experience and leave with souvenirs of you coming at the Lock Academy ! It offers the possibility of customizing your session and have a fun time with all of your guests !
You can also foresee the event and come to the event disguised, or even compete on two investigations of the same difficulty level, and organize a challenge between the two teams !
On top of that, you can hide a little note in the room (proposal, notice of a birth, birthday gift …). In short, Lock Academy is THE place to be to celebrate your event !