YOUR BUSINESS EVENT AT LOCK ACADEMY – ESCAPE GAME PARIS
For groups of 8 and up, shared between Escape Rooms depending on the number of players, take advantage of a custom service in our Escape Game in Paris.
Our Lock Academy locations are situated in the centre of Paris and are easily accessible. For corporate events, press events or product launches, Lock Academy is the IDEAL entertainment to surprise and delight your guests!
Our Live Escape Game concept strengthens teamwork and guarantees a fun time with your colleagues. Your Escape Game Team Building can be played in English or in French (excluding The Heist of the Century and The Examination which are available in French only).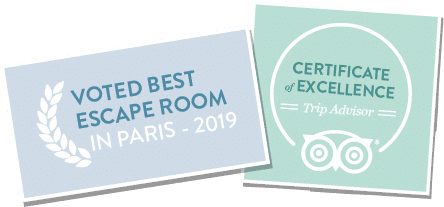 For more information on our packs, please contact us using the form below.
To ensure the slot you require is available, please go to our booking page and check the slots that you are interested in, to make sure they are still available. Slots on our booking page are updated in real-time.
If you have additional questions, you can contact our business relations manager at +33 6 08 90 09 71.
OUR TEAM BUILDING OFFERS AT LOCK ACADEMY - ESCAPE GAME PARIS
BOOKING WITHOUT OPTIONS
(2 to 38 people)
Booking of one or several indoor Mysteries (1 hour) in teams of 2 to 6 players.
Choice of sessions, pricing and booking on our Book Now page.
MINI PACK
(8 to 38 people)
Reception with
large choice of
drinks and candy
+
Indoor Mystery (1h)
+
Board game or Mug Lock Academy and diplomas for each participant
+
Printed team photo
From
45

€
ex-VAT per person.
FIESTA PACK
(8 to 38 people)
MINI PACK
+
Breakfast at the Lock Academy
OR
Snacks, lunch, dinner with
our catering partners
located nearby
From
55

€
ex-VAT per person.
WORK & FUN PACK
(8 to 38 people)
MINI PACK
+
Conference room rental in a nearby partner organisation
+
Optional: breakfast,
lunch, dinner, snacks
From
70

€
ex-VAT per person.
Customise your day from choices including an Escape Game session or an outdoors investigation in the heart of part
ASK US
Contact us for more information:
Our business relations manager will take care of your request