News from the Lock Academy Escape Room Paris
- Lock Academy wins Award for Best Escape Game Brand in Paris Region 2019! -
1 March 2019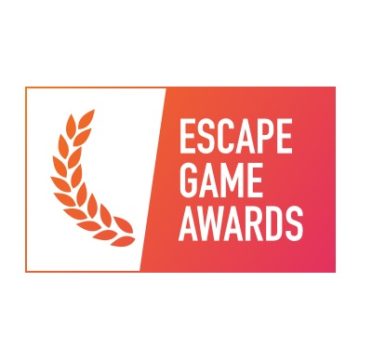 The awards were presented on February 28th, 2019 during a live ceremony at the Paris game café The Good Game – and Lock Academy won two awards! We're proud to announce that our brand was chosen for the most prestigious prize, the Best Escape Game Brand in the Paris Region 2019!
The Escape Game Awards, your guide for the Best Escape Games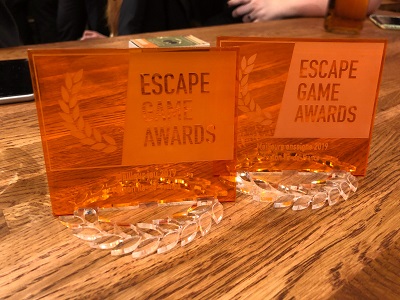 Created in 2015 by the Escape Game review blog EscapeGame•fr, the Escape Game Awards are the only event in France to date to pitch the top Escape Rooms and the best Escape Games head-to-head.
The Escape Game Awards award various prizes based on votes cast by players and a selection of specialist Escape Game blogs and websites, who were asked to vote for their favorite games between 15th and 24th February 2019. Participants could vote for their favorite escape games in each region of France in three different categories:
Award for Best Game rewarding a room's storytelling and high-quality gameplay.
Award for Best Decoration for the best scenery and immersion
Award for Best Escape Game Brand crowning the best overall Escape Game brand for high-quality games, skilled game masters and great customer service
Votes by blogs and specialist websites count for 30% of the final score, with the remaining 70% being made up of the public vote. In the Paris region, twelve blogs participated in the 2019 edition.
Lock Academy, Awarded Best Game and Best Escape Game Brand in the Paris Region 2019!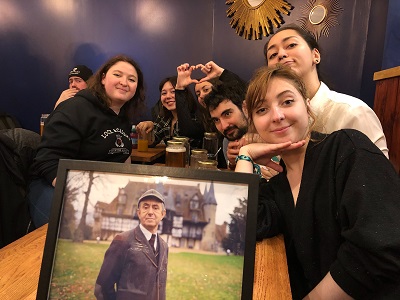 Since first participating in 2016, Lock Academy has received the most awards every year! [note: no prizes were given in the calendar year 2018 as the organizers decided to move the awards to the beginning of the following year, 2019]

And at the 2019 awards, Lock Academy won two out of the three categories where we were nominated: Award for Best Game for the mystery 'The Examination' available at Lock Academy Sébastopol and the Award for Best Escape Game Brand Paris – Ile-de-France for our company as a whole.
The 2019 Prize for Best Decoration in an Escape Room was won by our friends at One Hour for their horror-themed escape game The Abattoir. Congratulations to them ! Our congratulations also go to all the other brands who won in different regions across France, a testament to the great diversity of different Escape Games across the whole country.
The entire Lock Academy Team, and in particular the two founders Laurent and Romain would like to extend their warmest thanks to all the people – players and judges – who helped contribute to this great success. Since launching in 2015, at Lock Academy we have strived to amaze and entertain all those who enter our detective school, and we look forward to unveiling more surprises in the years to come!
– The 6 Escape Game Awards won by the Lock Academy –
Award for Best Story in 2016 and Best Game Design in 2017 (Ile de France) for the mystery Little Miss Lock
Prize for Best Digital Communication 2016 for Lock Academy
Escape Game Award 2019 Best Game in Ile-de-France for the mystery The Examination
Best Escape Game Brand Paris – Ile-de-France 2017 and 2019 for Lock Academy