Looking for an original and surprising Team Building activity? Lock Academy Paris helps you to organise a Corporate Escape Room in your facilities with our Work & Fun Package!
Call on the Lock Academy for your corporate Escape Room Paris! Our new nomadic investigation, Operation Mindfall, is the solution for your original Team Building!
With several years of experience in the field of escape rooms and corporate events, the Lock Academy has been recognised as the Best Escape Room brand 2019 of the Parisian region. We offer to help you organise an Escape Room corporate event in your facilities for your team meetings or business seminars. In addition, Operation Mindfall is available to play both in French and in English.
Team Building in your offices from 12 to a 1000 players
In short, Operation Mindfall is a unique experience combining augmented reality, an immersive gameplay and team cohesion. This Escape Game business Paris can be played from 12 to several hundreds of players simultaneously. Our team can customise the experience to meet your needs and offer a fun break for your corporate events, meetings or seminars.
Challenge and Team Cohesion in this original corporate activity
The Story : SPIDER TECH has spread a dangerous virus in the drinking water network. We have infiltrated the company to steal information on the antidote's formula. Your teams will have the duty to complete the mission and save the world! In order to create the best immersive gameplay, our narrative is coherent and filled with surprising twists.
Divided in teams of 3 to 6 players, participants will need to use their sense of logic et collaboration. A scoring system can be integrated in the game to spice things up with a bit of competition between the teams. Operation Mindfall allows large numbers of participants to live a group experience simultaneously at the same location. Indeed, teams see each other's progress in real time and stay in communication all along the game.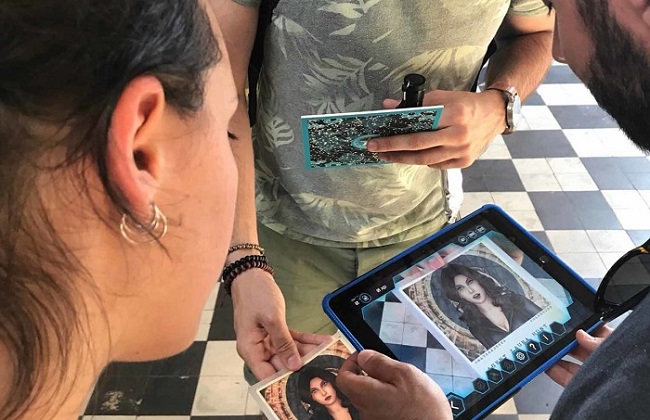 Thrilling experience with augmented reality
Each group is equipped with a tablet and a mission diary. Thus they can evolve in the game independently.
In addition to physical elements to solve the puzzles, players have access to scenes in augmented reality through the tablet.
Observation, analysis and communication will be necessary to solve all the tricks and twists of the game. Ready to uphold the challenge? Book this fun corporate escape room!
Our team at your service, offers for all types of groups
Specialists in the organisation of original team building events, Lock Academy Paris is at your service to help you organise your corporate activity. Indeed
our team of Game Masters is recognised in the profession
for their hospitality and animation skills. They will be present alongside your colleagues and deliver 1h of a fun corporate activity.
Thinking of a corporate escape game in our Parisian offices? To solve a surprising mystery in our mysterious museum or in the streets of Paris? The Lock Academy also has several offers detailed on our Team Building page.
Contact us for more information:
For any additional information or quote request, contact us via the form down below, by email at paris@lockacademy.com and by phone +33.6.08.90.09.71 !