Maybe you already heard about it: Lock Academy – Escape Room Paris launched it's first investigation outside, available all the weekends, Operation Mindfall!
Unusual investigation of 80 minutes, a mix between Escape Room, treasure hunt in Paris and discovery of the heritage, Operation Mindfall put you in a spy's shoes. Your mission ? Save the world of course!
With tools like a GPS-located tablet and a state-of-the art spy's kit, you will have to with a team of 2 to 5 players check carefully your surrounding and cleverness to resolve the puzzles of this treasure hunt!
From this day you can discover those sites where you will stop during your journey on this treasure hunt in Paris.
TOP ESCAPE ROOM – OPERATION MINDFALL AND Its MONUMENTS TO DISCOVER:
I/ THE BANK OF FRANCE
Toulouse's Hostel, old hostel of La Vrillière, is a private mansion located Rue La Vrillière in 1st district of Paris, close to La Place des Victoire. It is, since 1811 where the Bank of France is located.
Full of galeries, gardens and wooded courts, this private mansion is well known for its astonishing front wall.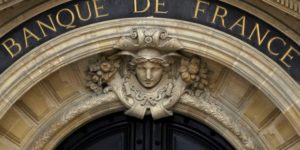 II / LOUIS XIV STATUE'S – PLACE DES VICTOIRES
The Place des Victoire is one of the most impressive square of Paris. Dedicated to Louis XIV, it is, with Place des Vosges, Place Dauphine and Place de la Concorde, one of the 5 royals Parisian square.
III / GARDEN OF PALAIS ROYAL
The garden of Palais-Royal is one of the biggest Parisian square of 20 850m² located in the 1st District of Paris and built in 1633 in the centre of Palais-Royal. It is labelled "Astonishing garden".
This garden was a wish from the Cardinal de Richelieu to ornate the Palais-Royal. It was made by Pierre Desgotz, the gardener of the king. The palace and the garden were given to Louis XIII when the cardinal died, and the royal family moved in. It has been modified by Charles X to give its today's looking, with galleries and the traces of paths.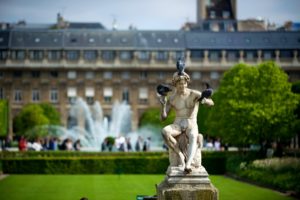 IV / BUREN'S COLUMNS
Les Deux Plateaux, also called « Buren's columns » is an art piece of Daniel Buren made thanks to the help of Patrick Bouchain. Located in the court of honor inside Palais-Royal in Paris, it is in the area close to the government department of Culture and the Comédie-Française.
The piece of art, which takes 3 000m² of the court, is made of a network of 260 shortened columns (Buren call them cylinders) of white marble with black and white stripes and a unique width of 8,7cm. The cylinders are put up in this area, in a dynamic way with 3 different heights going from 8,7 to 62 cm².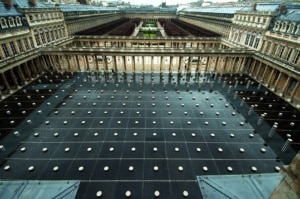 V/ THE FRENCH COMEDY
It is a cultural French agency created in 1680 and including since 1799 the room Richelieu in the centre of Palais-Royal in the 1st District of Paris. Public building with an industrial and commercial feature since 1995, it is the only theatre of the State of France having a permanent group of comedians, the Troupe des Comédiens-Français.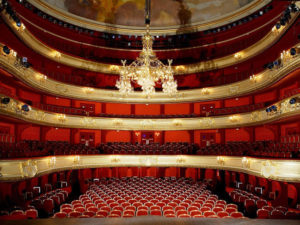 BUT ALSO… LOCK ACADEMY
Famous detective's school created by Professor Lock, this school has been welcoming the new generation of detectives for decades! It received the famous Miss Marple, Sherlock Holmes and even Scooby-Doo… Lock Academy even has a magnificent museum gathering items from the most famous detectives…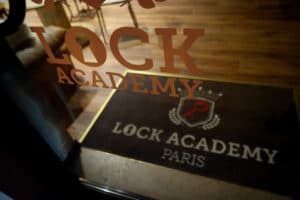 Ready to walk around prettiest streets of Paris? To save the world and be part of our treasure hunt in Paris, it's RIGHT HERE!