You are planing an activity with your company? Here's the proof by 5 that our live escape game paris will answer your needs.
#1 BECAUSE ESCAPE GAMES ARE A-MA-ZING!
Newbies or fans, the Team Building escape game will render you addicted! Divided in 4 to 6 groups, your team will have one hour to solve one of our investigations. An entertainment that builds team spirit, cohesion, cooperation and offers true moments of fun.
#2 BECAUSE WE ALL WANT TO BE DETECTIVES!
You want to challenge your analytical mind? Go to the Lock Academy! With your detective hats, our escape game Paris welcomes your company. Up to 18 players can come at once, divided in 1,2 or 3 escape rooms. Our investigations are available in French and English (excepted The Heist of the Century, only in French). Discover our mysteries!
#3 TO BENEFIT FROM A TAILORED TEAM BUILDING OFFER
Simple reservation, or privatization for several hours with snacks or a buffet, the Lock Academy offers exclusive Team Building formulas for companies. Elementary my dear Cher Lock!
How does it work? Example of a Fiesta Pack starting at 2pm.
• 2: Reception and deposit of your belongings in a secure area
• 2h05: Welcome drink, choice of teams, presentation of the investigations
• 2h15: Start of the investigations
• 3h15: End of the investigations and debrief
• 3h20: Picture and offering of a game for each participant
• 3h30: End of the experience at the Lock Academy
#4 BECAUSE THE LOCK ACADEMY IS THE PLACE TO BE!
You were looking for the new unavoidable activity in Paris? You found it! Double winner of the Escape Game Awards 2017, the Lock Academy is loved by the critics and the public. Listed in
the best activities in Paris on TripAdvisor, the professionalism of the team is as appreciated as the delicious candies that await you! Yummy!
#5 FOR ITS IDEAL LOCATION IN THE HEART OF PARIS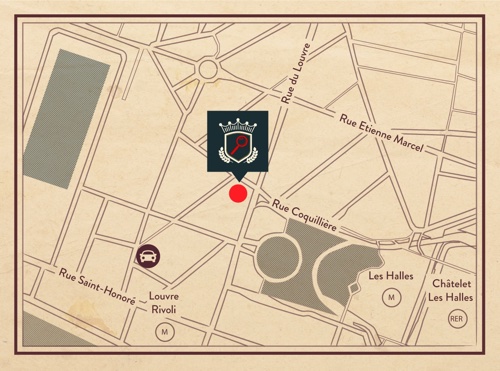 At 25 rue Coquillière in the 1st arrondissement, our Live Escape Game Paris is in one of the liveliest districts of the capital, where bars and restaurants aren't missed.
Close to the Musée du Louvre and Châtelet-Les Halles, the Lock Academy offers an easy access to public transports and is close to the underground parking Indigo (14 rue Croix des Petits Champs).
***
YOU ARE INTERESTED IN OUR TEAM BUILDING ESCAPE GAME OFFERS?
You can also write to us on contact@lockacademy.com to let us know your wish (date, time, number of participants, formula). You will receive an answer under 24h.
You want to book one of our packs? A quote will be issued and the wanted sessions blocked to allow its signature. Upon confirmation, you will receive an invoice (payment will be made before the sessions by transfer or check).
The Lock Academy is waiting for you!