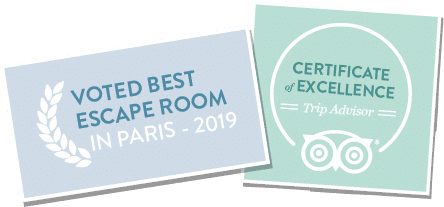 Lock Academy - Escape Game in the heart of Paris
Solve the mysteries of the Lock Academy - Live Escape Rooms in Paris, from 9 yrs old accompanied by two adults per team, or from 14 yrs old, 2 to 6 players per room. Unfortunately young children and babies are not allowed.
Our 7 mysteries, shared between two locations in the heart of Paris, will challenge your teamwork for your Team Building Events, Birthdays, with family or with friends.
ready for your mission in a detective school? Book your place at Lock Academy, the Paris Escape Game for a immersive and unforgettable adventure!
The Mysteries at Lock Academy Paris
- One room available per mystery -
- Academy Châtelet, take your detective skills back to the fundamentals -

Little Miss Lock
2016 & 2017 Trophy Winner for best plot (Escape Game Paris), for this thrilling mystery which begins in a student bedroom.
2 / 5 players
60'
Accessible to:

A Near-Perfect Crime
A life-sized Cluedo that will keep you guessing in the Dean's office. You have an hour to find the motive, murder weapon, and the culprit.
2 / 5 players
60'
Accessible to:

The Heist of the Century
A "Padlock-free" mystery in the Lock Academy museum. Find the Detectives' Guide, which has fallen into the wrong hands, and would allow whoever has it to commit the perfect crime!
3 / 6 players
60'
Accessible to:

Operation Mindfall
(Outside)
1 hour and 20 minutes to solve a mystery in the beautiful streets of central Paris and save the world! This treasure hunt will call on your most finely tuned detective skills.
2 / 10 players
80'
Accessible to:
- Academy Sébastopol, detectives school where mechanisms and puzzles are essential -

Revolt at Lock Academy
20/20 for the website The Best Escape Game - An exciting mystery in which your mission will be to prevent the school from being sold to public enemy number 1, Jim Key! To achieve your goal, you'll have to face off an unexpected opponent: Professor Lock himself...
Not suitable for people suffering from epilepsy

3 / 6 players
60'
Accessible to:

L.A. Confidential
Top 1 for the website Escape Game Paris - You've been tricked by Jim Key! You'll have to help him if you want to save the Academy. Your mission: gain entry to the most secure room in the entire school and find the files which will reveal Professor Lock's darkest secret. Code name: L.A Confidential...
Not suitable for people suffering from claustrophobia.

4 / 6 players
60'
Accessible to:

The Examination
2019 Trophy Winner for best game (Escape Game Paris) - Do you have the makings of a great detective? Find out by competing in the prestigious Lock Academy Examination, entirely designed by E.V.A, our new Artificial Intelligence System. Participate in a challenge that is sure to be full of surprises!
4 / 6 players
60'
Accessible to: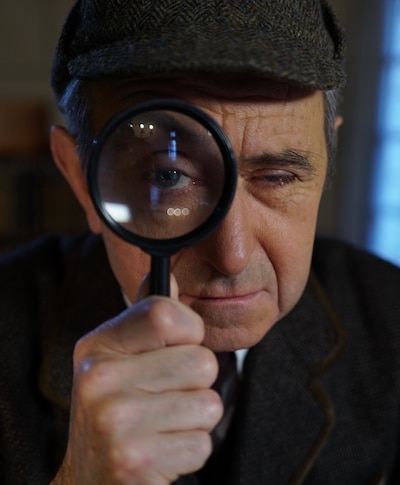 As one of the top Escape Games in Paris and in France, at Lock Academy we're proud to offer multiple game rooms with fun and challenging puzzles. Each of our Escape Game rooms gives you the chance to play through a unique story, with a guaranteed adventure in store for you and your team! Each room is designed by an escape game specialist and has unique surprises in store.
Designed to challenge you and your team, our escape game mysteries will put your brains to work to complete your mission: you'll need to work well together to complete the challenge in time. Our escape game rooms in Paris offer unique experiences which our players love – don't take our word for it, check out their reviews and feedback. Located in the heart of the French capital, Lock Academy's escape games are ready to take you on an adventure that will surprise and enchant your whole team.
The goal in an escape game is to solve puzzles to escape from a room in a given amount of time. Locked in a room with your friends or family, during our escape games you'll have the chance to experience a whole new type of day out! In our immersive universe and following the carefully laid clues, you will have to complete the mission and escape from the room.
Also ideal for team building events, bachelor and bachelorette parties, for birthdays or for a Christmas party, our escape games are a fun excursion for you and your friends and family. Are you ready to tackle our escape games and complete your mission?