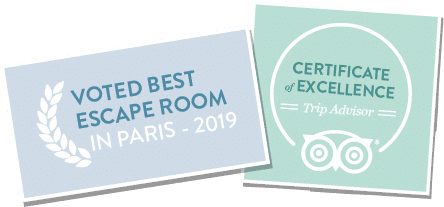 Solve the iconic mysteries of the Lock Academy Live Escape Game in Paris, open from 9 years of age accompanied by two adults, or from 14 years alone. Young children and babies cannot participate.
Our 7 mysteries, in two different locations in the heart of Paris, will challenge your teamwork during Team Building days, birthdays, or simply with your family and friends.
Mysteries at the Lock Academy Paris
- One room available per mystery -
- Academy Châtelet -

Little Miss Lock
2016 & 2017 Trophy Winner for best plot (Escape Game Paris), for this thrilling mystery which begins in a student bedroom.
3 / 5 players
60'
Accessible to:

A Near-Perfect Crime
A life-sized Cluedo that will keep you guessing in the Dean's office. You have an hour to find the motive, murder weapon, and the culprit.
3 / 5 players
60'
Accessible to:

The Heist of the Century
A "Padlock-free" mystery in the Lock Academy museum. Find the Detectives' Guide, which has fallen into the wrong hands, and would allow whoever has it to commit the perfect crime!
4 / 6 players
60'
Minimum 4 players over 15
Accessible to:

Operation Mindfall
(Outside)
1 hour and 20 minutes to solve a mystery in the beautiful streets of central Paris and save the world! This treasure hunt will call on your most finely tuned detective skills.
2 / 10 players
80'
Accessible to:
- Academy Sébastopol -

Revolt at Lock Academy
20/20 for the website The Best Escape Game - An exciting mystery in which your mission will be to prevent the school from being sold to public enemy number 1, Jim Key! To achieve your goal, you'll have to face off an unexpected opponent: Professor Lock himself...
Not suitable for people suffering from epilepsy

3 / 6 players
60'
Accessible to:

L.A. Confidential
Top 1 for the website Escape Game Paris - You've been tricked by Jim Key! You'll have to help him if you want to save the Academy. Your mission: gain entry to the most secure room in the entire school and find the files which will reveal Professor Lock's darkest secret. Code name: L.A Confidential...
Not suitable for people suffering from claustrophobia.

4 / 6 players
60'
Accessible to:

The Examination
2019 Trophy Winner for best game (Escape Game Paris) - Do you have the makings of a great detective? Find out by competing in the prestigious Lock Academy Examination, entirely designed by E.V.A, our new Artificial Intelligence System. Participate in a challenge that is sure to be full of surprises!
4 / 6 players
60'
Accessible to: