Little Miss Lock - The disappearance
Revolt at Lock Academy - Back to the future
A near perfect crime - Criminal investigation
L.A. Confidential - Mission Impossible
Operation Mindfall - Undercover Mission
Welcome to Lock Academy Escape Room Paris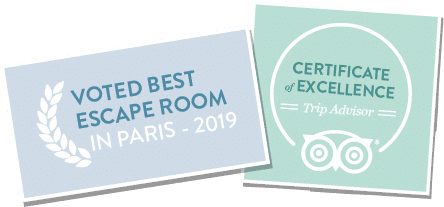 Lock Academy - Escape Game in the heart of Paris
Solve the mysteries of the Lock Academy - Live Escape Rooms in Paris, from 9 yrs old accompanied by two adults per team, or from 14 yrs old, 2 to 6 players per room. Unfortunately young children and babies are not allowed. Because of the health crisis, all players, including children, have to wear a mask.
Our 7 mysteries, shared between two locations in the heart of Paris, will challenge your teamwork for your Team Building Events, Birthdays, with family or with friends.
ready for your mission in a detective school? Book your place at Lock Academy, the Paris Escape Game for a immersive and unforgettable adventure!
The Mysteries at Lock Academy Paris
- One room available per mystery -
2 / 6 players
Best Parisian Escape Room in 2018 for The Best Escape Room – A thrilling mission where you will need to prevent the sale of the Lock Academy to the number 1 public enemy!
This investigation, worthy of Back to the Future, will transport you through time between vintage or futuristic decors and incredible special effects!
In this Escape Room in Paris, you will need to become one of the best detectives in the world to achieve your goal!
2 / 6 players
Top 1 for the reviews' website Escape Game Paris – Ready for an impossible mission?! To save the Academy, you will need to prove that you are worthy of Ethan Hunt or James Bond!
Your mission, if you accept it: infiltrate the most secured room of the school and find a secret file. It's code name: L.A. Confidential.
The Examination
The Detective's Competition
4 / 6 players
2019 Trophy Winner for Best Game (Escape Game Paris) – Do you have the makings of a great detective? Find out by competing in the prestigious Lock Academy Examination.
During this science fiction like mission, you will be challenged by E.V.A., our fearsome Artificial Intelligence System.
It's time to challenge yourselves in this unusual adventure! An exemplary line of conduct will be asked to all detectives, in this room that is sure to be full of surprises!
2 / 5 players
Winner of the 2016 & 2017 award for Best Plot (Escape Game Paris), this room is adapted to all players and begins by searching a student's bedroom. A renowned mystery to all escape room enthusiasts and a must-do of the Parisian escape games.
2 / 5 players
Ideal for a break, a life-sized Cluedo that will keep you guessing with its mission taking part in a room that is "So British!": Dean Doyle's office. You have an hour to find the motive, murder weapon, and the culprit of this crime.
3 / 6 players
An Escape Game mission at the Museum. Find the Detectives' Guide by becoming an outstanding thief! An attraction with gorgeous decorations and impressive technology, in the 1st district of Paris. Its escape games will quickly set the mood!
Operation Mindfall
Outside mystery
2 / 10 players
Investigating in the field doesn't scare you? Explore the most beautiful streets of Paris to save the world! This treasure hunt will bring out your best detective skills. An outdoors adventure with virtual reality for an optimal immersion without taking the subway.
In the heart of the capital, discover a detective school that tests your manipulation, search and reflexion skills.
As one of the top Escape Games in Paris and in France, at Lock Academy we're proud to offer multiple game rooms with fun and challenging puzzles. Each of our Escape Game rooms gives you the chance to play through a unique story, with a guaranteed adventure in store for you and your team! Each room is designed by an escape game specialist and has unique surprises in store.
Designed to challenge you and your team, our escape game mysteries will put your brains to work to complete your mission: you'll need to work well together to complete the challenge in time. Our escape game rooms in Paris offer unique experiences which our players love – don't take our word for it, check out their reviews and feedback. Located in the heart of the French capital, Lock Academy's escape games are ready to take you on an adventure that will surprise and enchant your whole team.
An original tour where team spirit is key!

The goal in an escape game is to solve puzzles to escape from a room in a given amount of time. Locked in a room with your friends or family, during our escape games you'll have the chance to experience a whole new type of day out! In our immersive universe and following the carefully laid clues, you will have to complete the mission and escape from the room.
Also ideal for team building events, bachelor and bachelorette parties, for birthdays or for a Christmas party, our escape games are a fun excursion for you and your friends and family. Are you ready to tackle our escape games and complete your mission?